About PLANTATUDE
PLANTATUDE promotes health-supportive plant-based eating through plant-based product and recipe development consulting. We work with our clients to provide concept development, menu development and feedback/analysis of alternative plant-based proteins.
As plant-based cuisine gains more traction and becomes higher in demand, restaurants and food companies need to keep up. Plant-based cuisine is highly specialized and can take years to learn – not just the execution of it, but also the nutritional knowledge that goes along with that. PLANTATUDE has the culinary expertise and nutritional knowledge that will give the competitive edge to any restaurant or food business looking to incorporate or focus on plant-based offerings.
About Chef Jae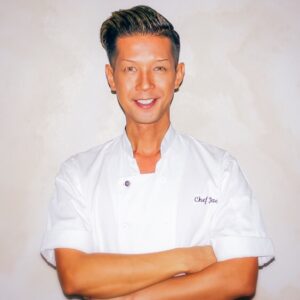 Chef Jae Camino has always had a passion for cooking and baking since he was a toddler growing up in his mother's kitchen in the Bronx, NYC. "Practically every occasion would revolve around food in the Filipino culture," says Jae. Even without an occasion, the first thing his mom would say to guests who came over to the house was, "Are you hungry? Would you like anything to eat?" Little did he know, later in life Jae would find himself saying the same thing to his own guests.
After attending college with a concentration in marketing, Jae worked in the corporate world. He held positions in customer relations, advertising, marketing and event coordination with various companies in NYC. During this time, he catered private events for friends and family on weekends as a creative outlet for his true passion – the culinary arts. Jae made the eventual career change after an unfortunate accident where he was hit by a car near his home. While recovering for months from his multiple injuries, he had the time to reflect on his true passion and what really made him happy – creating food in the kitchen.
It was during this time that Jae created his first business, "Jae's Sinful Delights," where he catered desserts for events in some of NYC's most popular venues. After a year of catering events in NYC, Jae made the move to Miami to cater events and provide personal chef services in the "Magic City." After three years, he had the opportunity to open his first retail store in Northwest Florida – Panama City Beach. He would later go on to win "Best Desserts" in Bay County from Panama City Living Magazine.
During his time in Northwest Florida, Jae was also a competitor on the Food Network show, "Bakers vs Fakers." He was thrilled to be a part of the second season and had a wonderful time creating desserts for the viewers. "It was a little surreal filming and seeing myself on TV, but I would definitely do it again."
After three years of creating custom cakes and desserts in Panama City Beach, Jae decided to relocate his business back to Miami. At this time, Jae was introduced to plant-based cuisine. He was very interested in the health supportive facets of it, but also the creative aspect. Jae felt that an entire world had opened up to him that he wasn't aware of. In order to gain more knowledge on the subject, he enrolled in several culinary academies that taught him about the benefits of a plant-based diet, classical and modern techniques of preparing the cuisine, and the science and studies to back it up. Some of Jae's certifications include "Raw Vegan Desserts" and "Raw Vegan Cuisine" from PLANTLAB Culinary Academy, "Plant-Based Professional" from Rouxbe Culinary School, Plant-Based Cuisine from Food Future Institute and "Plant-Based Nutrition" from the T. Colin Campbell Center for Nutrition Studies and eCornell.
Subsequent to receiving his certifications and transitioning into a 100% plant-based lifestyle, Jae created his second culinary venture – PLANTATUDE. Now he is looking forward to sharing his new found passion for empowering others to take their well-being into their own hands.